A combination of making no progress in signing a much-needed central defender and a couple of disappointing pre-season friendlies saw a section of Arsenal fans boo the team off the field after their match against the New York Red Bulls last weekend. And the Life's A Pitch panel of top football writers can understand fans' frustration over Arsenal's inability to strengthen the defence this summer.
The Daily Mirror's John Cross believes the fact that some of Arsenal's rivals have largely concluded their summer transfer business has added to annoyance of Gunners supporters determined to see manager Arsène Wenger buy a commanding central defender.
"The problems that [Arsenal] had at the end of last season were absolutely as clear as anything to anyone: [the need of a new] centre half and you're going to have the Cesc Fabregas saga." Despite feeling that Arsenal could have done more to force the issue over Fabregas' transfer, he feels that Barcelona are more to blame for the continuing saga.
But John has no sympathy for Wenger for not signing a central defender yet. "It's unforgivable that they haven't signed a centre-half," he explains. "It's ridiculous."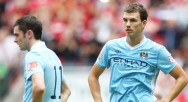 But Tom Hopkinson of The People feels that Arsenal's financial limitations and their reluctance to lose key midfielders Fabregas and Samir Nasri means that they have to wait to see which players are sold before they can make any significant purchases. "They've got to get [Nicklas] Bendtner out, they've got to see what's happening with [Samir] Nasri, they've got to see what's happening with Fabregas."
The booing of the Arsenal team in a largely meaningless pre-season friendly has left some observers questioning whether Wenger might decide he's had enough and quit the club. ButIan Ridley of the Daily Express feels this is still extremely unlikely.
"He must feel a there's a monstrous ingratitude going on. [But] I can't see him walking away from it. He's always seen out a contract. But this is such a mad game and you never know."
Arsenal are reported to have bid for Everton's Phil Jagielka and still be interested in Bolton's Gary Cahill and Blackburn's Christopher Samba.